Gin Tonic ice cream to make yourself
Sun full, lazing on the lake, a cosy evening in the beer garden until sunset, lots of good humour and an extensive breakfast on the terrace. When the summer calls, one looks forward to quite a lot. But the best thing about this time of year has not yet been mentioned. ICE! Best every day, because who can get enough of it?! Meanwhile there are varieties like sand at the sea. Beside classics like chocolate, vanilla, lemon and Co. there are now also all kinds of exotic tastes. We can test cucumber, balsamic vinegar and even white sausage. We'd rather introduce you to a more classic type, but with a fine gin note. Never tried it before? Then let's get on with this great Gin Tonic ice cream recipe!
Gin Tonic ice cream on the stick
You need the following basic ingredients for the Gin Tonic Ice style:
4 cl Gin (London Dry Gin fits the Gin Tonic ice very well)
3 cup tonic
juice of a lime quarter (if you like it sour, take a little more here)
Some slices of cucumber, thin sliced
This is the base for your ice, but you can add something. To make the delicious summer pleasure a little sweeter, icing sugar is a good choice. Approximately one to two tablespoons are perfect. Just try the mixture until you find the perfect balance between alcohol, tonic water, sour lime and sugar. Some mint or basil are also excellent in Gin Tonic ice cream.
How does the preparation of the Gin Tonic ice cream work?
The ice is made fast. The gin is mixed with the tonic water and the lime juice. If you want to add icing sugar, you can add it. Now the question arises in which form you want to enjoy your ice cream. If you want an ice-cream on a stick, you'll need the right shape.
Simply spread the mix of gin, tonic water and lime juice on the cups. Then put a slice of cucumber into the mould and put the wooden stick into it. If you're still in the mood for mint or basil, put a few leaves in the moulds. The ice must now be in the freezer for at least 4 hours. Cooling overnight is of course even better. If your ice-cream has the perfect consistency on the stick, you should briefly place the moulds in hot water. This will dissolve your ice faster.
Gin Tonic Sorbet
Of course, you don't have to enjoy the Gin Tonic ice cream on a stick, but you can also destroy it ball by ball. The consistency should be a bit creamier. Our recipe suggestion for the Gin Tonic Sorbet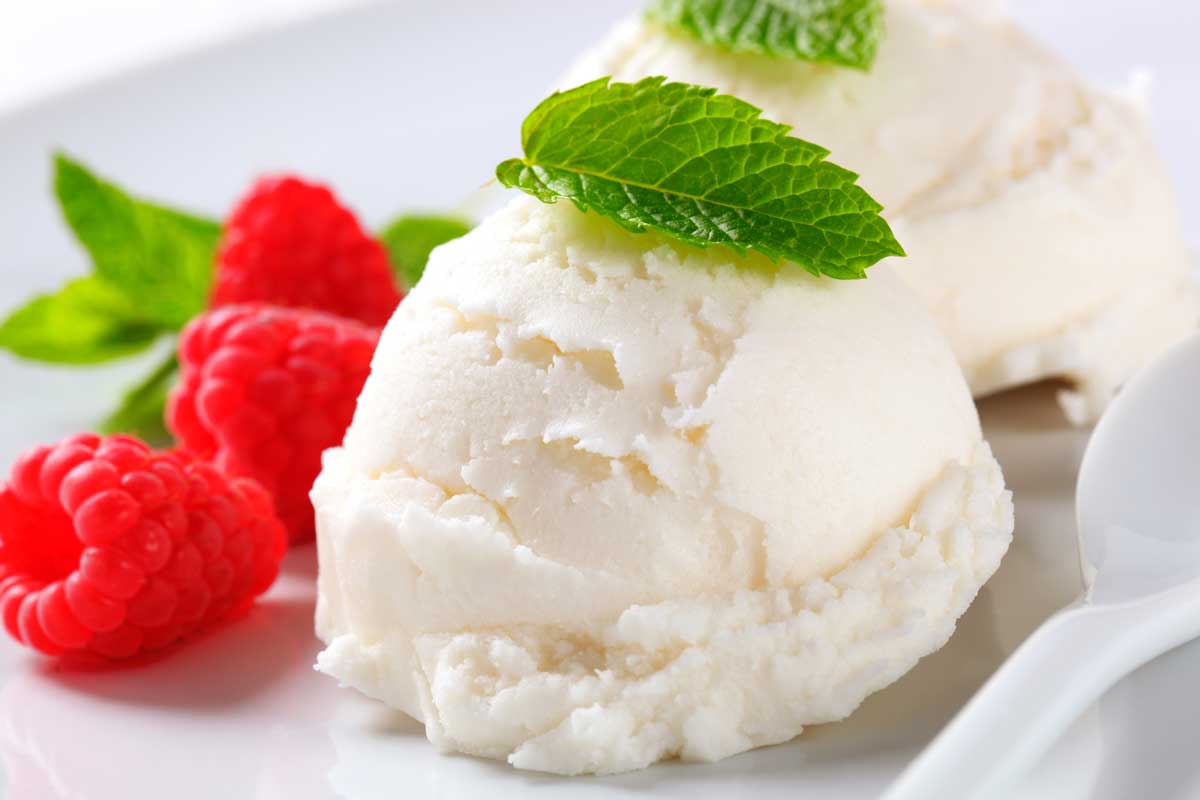 230 g Water
250 g Tonic Water
200 g sugar
100 g Gin
50 g lemon or lime juice
The first step requires the production of a sugar syrup. Put water and sugar in a pot and heat the mixture slowly. Wait until the sugar has completely dissolved, stirring constantly. Now add the lemon juice. The mix is then finely mixed with a blender and must cool completely. Gin and tonic water are added at the end. The liquid mass comes now into the ice cream machine . If you do not have such a device, you can also use a freezer bag, which you seal airtight and place in the freezer compartment. After a few hours the ice cream is ready and can be distributed on the glasses with a portioner.
If you like it fruity, but don't want to do without the gin taste, you should consider what your favourite fruit is. Raspberries are particularly suitable because they are sweet and sour at the same time and thus form the perfect contrast to the aromatic gin . The raspberries (preferably frozen ones) are first crushed. Put them in a freezer bag and cover with a rolling pin a few times. A crusher can also be helpful. Now add one tablespoon of berries per ice cream mould. You can also do this with strawberries, mango or a fruit of your choice.
What is your favorite? Das Gin Tonic Ice classic? With an extra dash of sugar or delicious fruit? On a stick or in a cup? Whatever your first choice, for summer a variation of the Gin Tonic Eises is the ultimate taste kick!